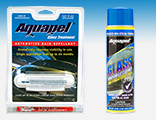 Item: 47100 / 47112
Price: $13.90
Dramatically improves visibility in rain and forms a chemical bond with automotive glass - unlike other products that simply coat.
When AQUAPEL ® Glass Treatment is applied to the exterior of vehicle glass, it leaves the surface water resistant. Rain beads up and rolls off, dramatically improving visibility - day and night. One application lasts up to six months - six times longer than other products.
This includes the Glass Treatment Applicator and a can of the Aerosol Glass Windshield Cleaner.
AQUAPEL ® Aerosol Glass Windshield Cleaner cleans and polishes automotive glass and mirrors, and is safe to use on fiberglass, laminates, vinyl, and other nonporous surfaces. Effective on appliances and fixtures, too. The ammonia-free formula uses denatured alcohol to clean thoroughly and dry quickly, leaving a pleasant, clean aroma.